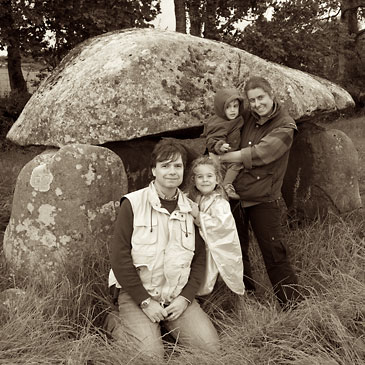 Diego, Alice, Daniele & Paola at Cefn Isaf (Rhoslan, Wales)

We both enjoy computers and megalithic sites. During our journeys to Ireland (1989), Scotland (1990 and 1998), Sardinia (1991, 2001 and 2010), England (1992, 1998 and 2007), France (1996), Wales (1997 and 2007), Apulia (2000, 2004 and 2006), Corsica (2000), Spain (2008) and Valcamonica (2010) we took several thousands of pictures and collected a lot of information about local stone circles, dolmens and standing stones. After joining the Internet community - in 1995 - we decided to share the knowledge gained by our experience in those countries. Thus, in February 1996 we started the Stone Pages: the very first guide about European megalithic sites and other ancient monuments ever appeared on the Web.

Since then, this website has grown to over 7,000 pages and we set the standards for many other websites devoted to the same subject. For instance, we broke the ground with the first CD-ROM devoted to megalithic monuments (for SCRAN in 1998); we pioneered the use of QTVR 360-degree panoramic movies to show prehistoric sites (since 1997); our open forum has been the first of its kind for all users interested in European megalithic monuments (since 2000); and our Podcast was the first ever made covering news about prehistory (since 2005).

We live with our daughter Alice and our son Daniele (born respectively in 2002 and 2005) in Bologna, a beautiful Italian town, home to the oldest university in the world. Our hopes and resources are now directed to Cartabianca, a web hosting, multimedia and publishing company specialized in history, archaeology, travel and technical guides. But we don't forget we are "megalithomaniacs", so in the future we'd like to build new Stone Pages sections about Spain, Portugal, Denmark, Malta and Valcamonica (Italy).

Paola was born in Milan (Italy) in 1964. She is a journalist. She has worked in magazines dealing with travel, young people and popular science. Since 1991 she has worked in the monthly magazine Airone, an Italian kind of National Geographic; later she has worked mainly on the Internet, writing reviews, creating and maintaining Web sites. Among her interests: reading books, socializing and cooking spaghetti, gnocchi, fettuccine... all kinds of pasta! Paola is fond of cetaceans, particularly dolphins.

Diego was born in Rome (Italy) in 1963 and he has worked as a freelance journalist for over 20 years, writing more than 2000 articles for several Italian magazines dealing with electronic music, computers, photography, video and astronomy. He is also a webmaster and a photographer. His photographs have been published on the cover of music, video and astronomy magazines, on the NASA website and on several books. One of his Stones of Stenness images is on the cover of Van Morrison's The Philosopher's Stone. He is also a QTVR expert and he worked for Ferrari, FIAT and Alfa Romeo, making virtual movies of Ferrari F14T, FIAT Multipla, FIAT Punto and Alfa 166. He made some professional videos on Turkey and Portugal. Diego plays guitar and keyboards and he has a small recording studio (in the attic!). He has little time to play. But he had the chance to work for Peter Gabriel's live album Secret World Live, recording computer data from electronic instruments. Diego is fond of nocturnal birds, particularly nightjars, and he has published some research papers on this odd species.

Over the years many people helped us a lot along our way with this website and its ever expanding contents. Among them, we would like to send our special thanks to: Alistair Carty, Andrea Arcà, Andrea Clementi, Andrea Morando, Andrew Selkirk, Andy Burnham, Andy Sweet, Antonello Porcu, Barrie Foster, Bill Shew, Cerridwen Connelly, Chris McGrail, Chris Tweed, Clive Price-Jones, Dave Horrocks, David Clough, David Connolly, Dawn Sipos, Dolores Glez. de la Peña, Domenico Perrone, Enrico Atzeni, Fred Brown, George Nash, Giorgio Murru, Giovanni Lilliu, Guido Cossard, Guy Middleton, Herbert Roese, Janet Horwith, Jasmine Rodgers, Jean-Dominique Cesari, José Antonio Mugica Alustiza, Kris Hirst, Linda Schiffer, Martin McCarthy, Michele Chieco, Miguel Moreno, Mimi Bueno, Mirko Zaru, Neil Curtis, Oreste Caroppo, Paul Bennett, Paul Devereux, Pete Glastonbury, Rob Roy, Sigurd Towrie, Susan Rappoport, Toti Calò, Victor Rejis, William Greer, Wolf Thandoy, Xabier Peñalver.